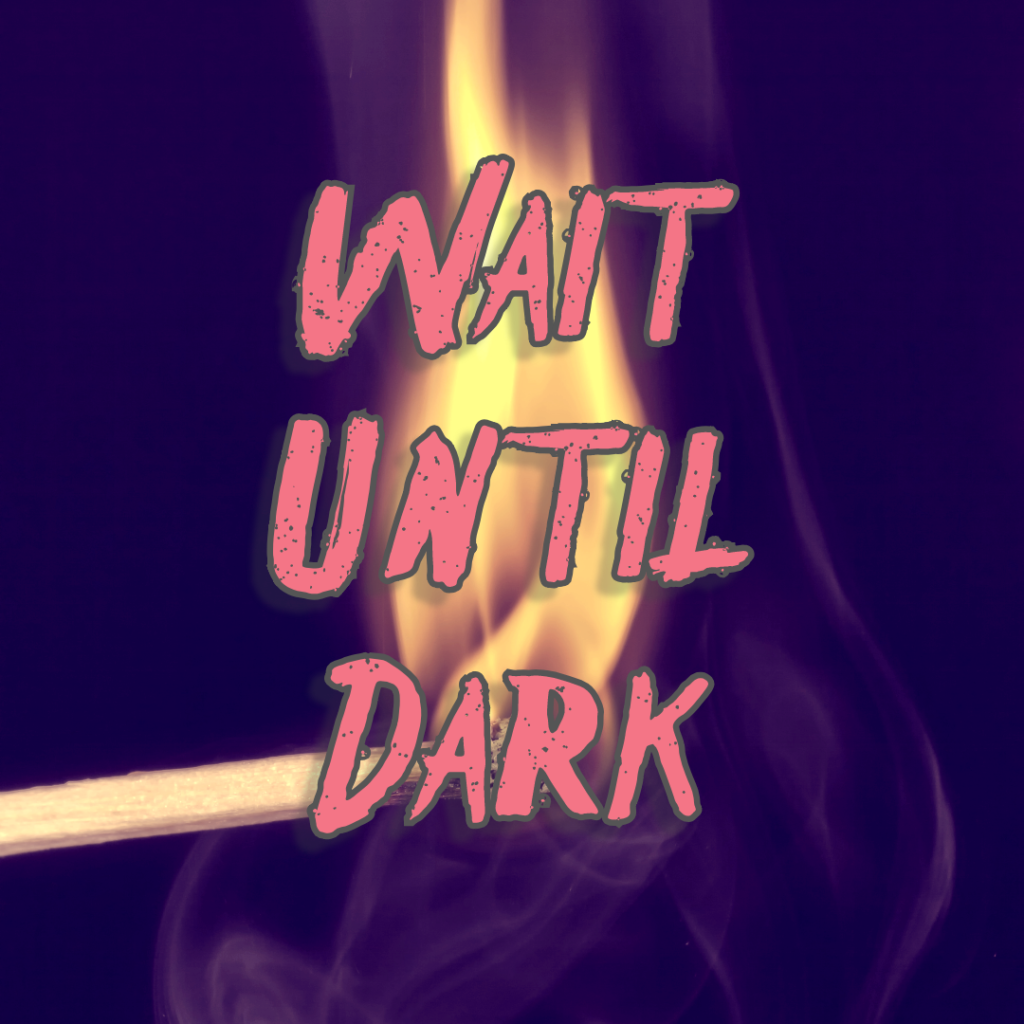 Wait Until Dark
By Frederick Knott
Director: Joe Swenson
Questions: Email josephaswenson@gmail.com
DATES & TIMES & REQUIREMENTS:
Dates: Monday December 5th and 6th at Lyric Music Theater
Times: 6 p.m. – 8:30 p.m. (No new sign-ups after 8:30 p.m.)
Type of Audition: Multiple Readings (Cold)
No call backs will be required.
Rehearsals start on Wednesday December 7th with a read through of the entire script at 6:30p.m.

PLOT SUMMARY:
Time: October 1944
On his way home, Sam unknowingly acquires a music box that is wanted by a ruthless con-
artist. A Marine Corps Veteran, Sam now works as a photographer and is called to his studio
multiple times to do a photo-shoot, leaving his wife of one year alone. Susan recently lost her
sight in an accident and must navigate her way through an elaborate scheme to reacquire the
music box. The moments of tension continue to escalate throughout the show until the dramatic
end.

CHARACTER BREAKDOWN:
Susan 20s/30s (Female) Recently sight impaired. Using other senses to compensate.
Roat Any Age Adult (Male) must have the ability to age up or down 20 years.
Mike 20s-40s (Male) Must either fit the build of a Marine or the opposite
Carlino Any Age Adult (Male) Con-Artist
Sam 20s/30s (Male) Susan's husband
Gloria 12-15 (Female) Sassy, sketching neighbor of Susan and Sam

ATTENDANCE EXPECTATIONS:
Attendance for December 7th read through is mandatory as are all of the performances and
Tech week. We will not rehearse the week from December 22nd – January 1st.

DIRECTOR SEEKING:
Performers that are coachable, have strong chemistry building attitudes, with a common goal of
being part of something great.
Lyric Music Theater is committed to diversity in our productions, both on stage and off. We
encourage people of every race, sexual orientation, faith, gender identity, physicality and ability to
audition or contact us about other opportunities. A culture of inclusion is essential to our mission
at Lyric. As creators of art that relies on human empathy–we aspire to create a community built on
respect, belonging, collaboration, and creativity. Lyric is invested in exploring multiple
perspectives and embracing the value of all people. We seek to cultivate an environment in which
our differences are explored with generosity and openness.

*Proof of vaccination including a booster is needed to audition/be cast in the production.