Auditions for Curtains Announced!!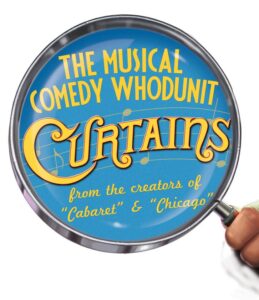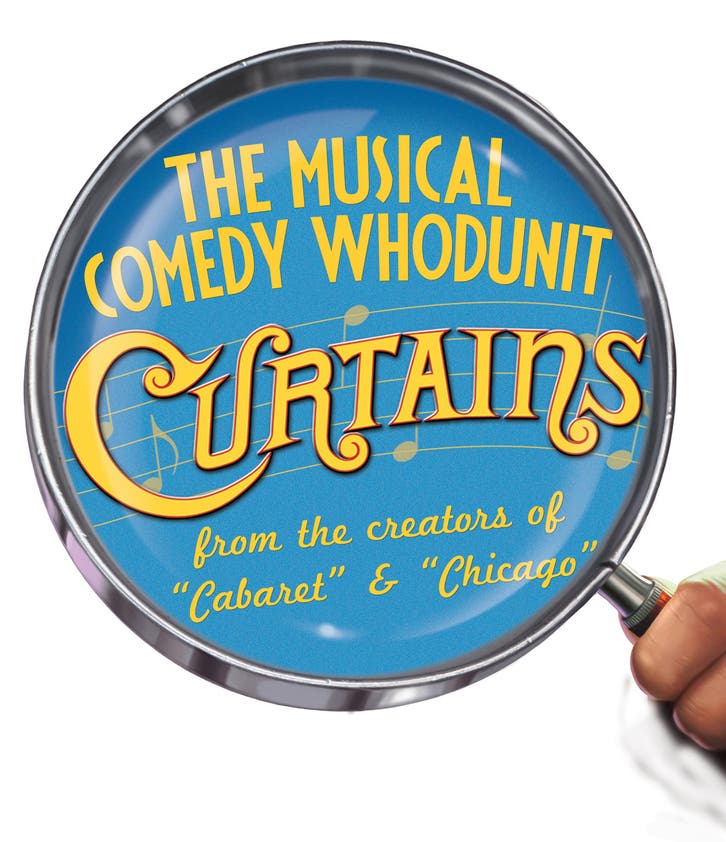 Book, Additional Lyrics: Rupert Holmes
Music, Additional Lyrics: John Kander
Lyrics: Fred Ebb
Original Book and Concept: Peter Stone
Curtains unfolds backstage at Boston's Colonial Theatre in 1959, where a new musical could be a Broadway smash, were it not for the presence of its talent-free leading lady. When the hapless star dies on opening night during her curtain call, Lieutenant Frank Cioffi arrives on the scene to conduct an investigation. But the lure of the theatre proves irresistible and after an unexpected romance blooms for the stage-struck detective, he finds himself just as drawn to making the show a hit, as he is in solving the murder.
Director: Don Smith
Music Director: Rebecca Caron
Choreographer: Kate Whalen
Audition Requirements:
Sign-up for one of the audition blocks by clicking the link below
All those auditioning for Lyric productions must provide proof of COVID vaccination and wear a mask while in the building..
Auditions will consist of singing and dancing – Prepare 16 bars of a Broadway-style song or a song from the show that is in your key and that showcases your voice. You must bring sheet music marked with the measures to be performed. An accompanist will be provided. A cappella singing, instrumentals on CD, Tape, iPod, MP3 Player or other digital recorder will not be allowed. Wear comfortable shoes and clothes appropriate for dancing and movement. No bare feet allowed.
Readings will be done at call backs. You may pick up a side for readings to take with you at auditions. All actors that wish to read for Lieutenant Cioffi, Niki Harris, Georgia Hendricks, Carmen Bernstein, Aaron Fox, Christopher Belling, Bambi, Oscar, Bobby, Daryl, Johnny/Jenny, or Jessica should be prepared to return for call backs.
Scheduling Conflicts: PLEASE come to auditions knowing all schedule conflicts from Dec 13-15, Jan 3-15 & Jan 24-Mar 27.  Conflicts will be an important consideration in casting. 
If you are not available any time from Mar 6 –Mar 27 we will not be able to cast you in this show.
Audition Location: Lyric Music Theater, 176 Sawyer Street, South Portland, ME 04106. Lobby phone: (207) 799-1421
For any questions regarding auditions contact Director, Donald Smith via email donaldsmith5158@gmail.com
Audition Dates – you only need to attend one (1) audition date:
Singing & Dance Auditions Day 1 – Monday, December 6 – 6:30-9:30pm by appointment
Singing & Dance Auditions Day 2 – Tuesday, December 7 – 6:30-9:30pm by appointment
Call backs/readings– Thursday, December 9 – 7:00pm
Anyone interested in auditioning for the role of Sidney Bernstein/Detective O'Farrell will be auditioned on December 9. Please let Don Smith know you will be auditioning
Schedule an appointment here

Rehearsal Period: Dec 13-15, Jan 3-15, Jan 24-Mar 9. Rehearsals held on Mon, Tue & Thu evenings through Jan 24, then we will add Sundays. Times tbd.

Performances:
Mar 10 – Thursday 7:30pm – Senior Preview
Mar 11- Mar 27 – Fridays & Saturdays 7:30pm; Sundays 2:30pm
CASTING:
All Roles Are Available: The cast of this production will be approximately 24 actors and consists of both principal roles and ensemble with many featured roles.
Lyric Music Theater is committed to diversity in our productions, both on stage and off. We encourage people of every race, sexual orientation, faith, identity, physicality and ability to audition or contact us about other opportunities. A culture of inclusion is essential to our mission at Lyric. As creators of art that relies on human empathy–we aspire to create a community built on respect, belonging, collaboration, and creativity. Lyric is invested in exploring multiple perspectives and embracing the value of all people. We seek to cultivate an environment in which our differences are explored with generosity and openness.

Principals Ages quoted are suggested character ages, not necessarily actor's age:
LIEUTENANT FRANK CIOFFI (30's – 40's) Vocal Range: Bottom A-flat2 to Top E4
Sweetly endearing local Boston detective who idolizes the world of musical theatre and has reveled in the thrill of performing in community theatre. Called upon to solve the murder of the star of "Robbin' Hood" (a musical intended for Broadway that is currently out of town in Boston), Cioffi is very good at his job and, lamentably, married to his work. He is instantly smitten with ingénue Niki Harris. The undisputed central character of the musical. Requires deft and charming comedy, good singing, solid dancing in one extended "Fred and Ginger" number.
NIKI HARRIS (20's-early 30's) Vocal Range: Bottom C4 to Top E5 – Pretty, almost too innocent ingénue, a local performer in a small role hoping "Robbin' Hood" will be the Boston production that at last takes her to Broadway. Love interest for Lieutenant Cioffi, apparently reciprocated. Requires a legit soprano and strong dancing in an extended "Fred and Ginger" number.
GEORGIA HENDRICKS (30's – mid-40's, similar age to AARON) Bottom G3 to Top E5 – Female half of our show-within-a-show's songwriting team on the lyric-writing side. Ends up taking on the leading lady role. Must sing and dance extremely well.
CARMEN BERNSTEIN (45-65) Bottom E-flat3 to Top E5
Brash and brassy Broadway producer. Terrific comedic actress with a belt.
AARON FOX (30's – 40's, similar age to GEORGIA) Bottom B-flat2 to Top G-flat4 – The composer of the show-within-the-show. His songwriting partner, Georgia, is also his wife, from whom he's separated but for whom he still pines. He's a handsome, intense, somewhat tortured artist-type. Requires a strong vocalist with comedy.
SIDNEY BERNSTEIN/ DETECTIVE O'FARREL: Non-singing
Sidney Bernstein is the always-angry, sleazy, philandering producer of the out-of-town flop. Sidney is rough around the edges and completely self-serving. Requires a cartoon-like character actor who is funny on arrival. No singing required. Detective O'Farrell is Lieutenant Cioffi' 2nd in command.
CHRISTOPHER BELLING (40-60): Bottom B2 to Top E4 – English director. Very camp. Very droll. Noel Coward meets Addison DeWitt meets Clifton Webb. Requires a superb comic actor.
BAMBI BERNÉT (Early 20's-early 30's) Bottom C4 to Top C5 – Performer in the chorus, daughter of Carmen, step-daughter of Sidney. Genuinely brassy and artificially blonde. Hungry to work her way out of the chorus; many think she was only hired because of her mother. She surprises everyone, however, when she shows genuine dancing and singing talent when at last called upon. Requires great dancing, strong "street-smart dumb blonde" comedy, and singing.
OSCAR SHAPIRO (45-65): Bottom B-flat2 to Top E4 – From the garment district and sole investor in "Robbin' Hood." A likeably gruff man who knows nothing about theatre and frets over every dime of his that's spent. Requires good "rough around the edges" comedy and singing.
BOBBY PEPPER (30's to early 40's, similar age as Georgia and Aaron) Bottom A2 to Top E4 – The Gene Kelly of "Robbin' Hood," its choreographer and male star, and a handsome rival to Aaron for Georgia's affection. Requires strong dancing, singing, comedy.
DARYL GRADY/Ensemble (30's-40's): sings in the ensemble – Caustic and smug theatre critic for the local Boston newspaper. Patronizingly pompous, enjoys using his power to make or break shows during their Boston tryouts. Does not require strong singing or dancing.
JOHNNY/JENNY HARMON * (30's-60's) can be played as Male or Female – sings in the ensemble – Stage Manager of the show-within-the-show, and both drill sergeant and mother hen to the cast. Barks orders but has a pleasant side as well, he keeps the company in line and on their toes throughout the rehearsal process. Comic actor who can sing.
JESSICA CRANSHAW (50's-70's) Bottom G4 to Top D5 – Faded Hollywood star, a grand diva with no right to be one, and a plague to the show-with-the-show and to her cast. An absolutely dreadful singer and inept actress who stars in the show-within-a-show and gets murdered on its opening night in Boston. Must be skillful enough to sing hilariously out-of-tune and ineptly, and adroit enough to dance perfectly out of step with the rest of the cast. Appears only in the first minutes of the musical; Can be a cameo or as on Broadway, this performer adopted a different look and became part of the ensemble.
RANDY DEXTER (20's – 30's) Bottom A2 to Top flat4 – A member of the singing & dancing ensemble featured in "Kansasland," pleasant but with a sensitive side.
HARV FREMONT (20's – 30's) Bottom A2 to Top flat4 – A member of the singing & dancing ensemble who bears a bouquet. ROBERTA WOOSTER (20's – 30's) a member of the singing & dancing ensemble who speaks from experience.
ENSEMBLE – dancers/singers
Thank you for your interest, we look forward to seeing you at auditions.